About the Fraud Genius Technology
It's Not Just Checking the Billing Address...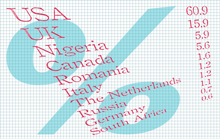 Fraud Genius evaluates dozens of proprietary transaction factors in determining a score - it's not just your typical billing address check like other fraud detection systems. The Fraud Genius technology uses heuristic pattern matching based upon thousands of data points derived from typical fraudulent transactions. It combines this with common and proprietary fraud detection rules to develop what is considered one of the most accurate scores in the industry.
A weighted combination of the transaction 'traits' is developed and distilled into the Fraud Genius fraud score. The fraud score ranges from 0 (unlikely fraud) to 100 (very high risk of fraud). The end result being Fraud Genius helps ensure and secure online transactions. The Fraud Genius technology uses specialized fraud detection techniques, which are based upon years of typical fraudulent behaviors over eCommerce - and has proven to be an invaluable guide into a customer's true trustworthiness.
Fraud Genius asks such questions as:
Does the transaction show signs of Internet access typically used by fraudsters?
What fraudulent behaviors are matched by the transaction?
Does it match what your company deems trustworthy based upon your custom weighted preferences?
Are other Fraud Genius networks experiencing issues with this customer?
You're in Control
Once signed up to use our fraud detection service, Fraud Genius provides a secure merchant management area to view your online payment score performance and to adjust score weights for areas of the globe according to your typical sale. After you're satisfied with the score accuracy, you can implement action on your website order page based upon the fraud score - such as, review, block, or allow an order. Then let Fraud Genius do the work, where a manual order review was previously needed to ensure secure online transactions.
The Fraud Genius Integration Guide
You can review the Fraud Genius API (Application Programming Interface) integration documentation here. We've made integration as simple as we could to reduce engineering effort to a minimum to use Fraud Genius. Most merchants are communicating with the Fraud Genius systems and learning the risks of payments on their websites within an hour. Start your free trial today.